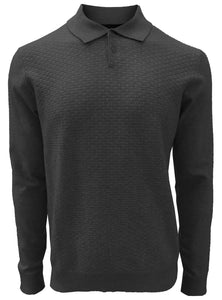 Additional Information:
Introducing Lolan, the epitome of luxury and sophistication in men's fashion. Crafted with utmost care and precision, this exquisite Cashmere-feel gauge polo sweater combines unparalleled comfort with timeless elegance. Elevate your style with Lolan's superior craftsmanship, soft cashmere fabric, and impeccable fit. Experience the perfect blend of fashion and luxury with Lolan, a must-have for discerning gentlemen.
CASHMERE-LIKE CHARACTERISTICS:
LUXURIOUS SOFTNESS: The fabric feels incredibly soft and gentle against the skin, providing a cozy and comfortable sensation.

WARMTH AND INSULATION: Like cashmere, this fabric offers excellent warmth and insulation, making it ideal for colder weather.

LIGHTWEIGHT: Despite its warmth, the fabric remains lightweight, allowing for ease of movement and a comfortable wearing experience.

DURABLE: Although it is not cashmere, this fabric is known for its durability and ability to withstand regular use and washing.

BREATHABLE: Despite its warmth, the fabric maintains breathability, preventing overheating and ensuring comfort throughout extended wear.

VERSATILE: The fabric's softness and appearance make it versatile for various clothing items, including sweaters, scarves, shawls, and other fashion accessories.

HYPOALLERGENIC: It is non-irritating to the skin and suitable for those with sensitive skin, just like cashmere.

AFFORDABLE ALTERNATIVE: This fabric serves as a more budget-friendly alternative to cashmere while still offering a similar luxurious feel.
Composition: 52% VISCOSE, 28% POLY, 20% NYLON
- 52% viscose: Provides a smooth and breathable quality.
- 28% poly: Adds durability and wrinkle resistance.
- 2% nylon: Increases strength and abrasion resistance.
Knit and Cotton construction: Offers a comfortable and flexible fit with added depth and texture.
Shop now for this premium quality cashmere-like sweater and experience the epitome of refined fashion.SWE